GREYNIE KENNEL
Internationally protected kennel Greynie was registered by Ceskomoravska kynologicka unie (FCI-partner) on 20.10.2009 under the registration number 1067/09.
We led a longwinded discussions about its name – we wanted it to be simple, internationally clear and readable, but at the same time to specify the breed (because we can not imagine to breed any other breeds than weimaraner at the moment) and remind the founder of breeding Annie, that we bound for the establishment to.So that is the way the name Greynie originated – as a compound of the words Grey and Annie. But it means something as a small grey thing as well, so it is absolutely clear comparison for every weimie.
So let be "Greynie" the attribute of every our puppy...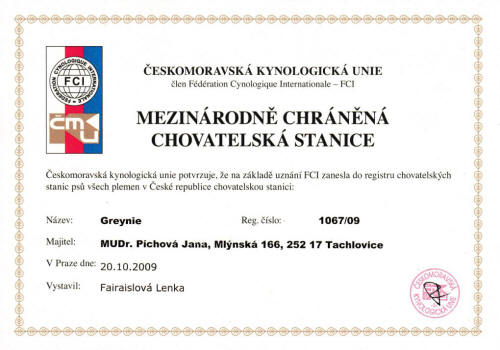 © 2014 Greynie kennel - All rights reserved!
webdesign by Anima Animal