D-litter - Rory & Gambler

Sire: Weisup Royal Flush at Bromhund "Gambler"
Dam: Gem Of Aleck From Atria Cordis "Rory"

D.O.B. 9th July 2018
5 females + 1 male

AustCh Weisup Royal Flash at Bromhund "Gambler" is a young, handsome male with an amazing pedigree, balanced temperament, friendly character and excellent hunting skils. He was bred in New Zealand and now is living in Australia, Bromhund kennel. His pedigree is full of the best ancestors from all the World.
His Sire is Oxford (NZCh One In A Milion Imperium star, IMP PL), great producer from New Zealand, who gives lovely balanced litters, beautiful healthy puppies without faults and with an excelllent temperament. According to the only litter produced by Gambler we can hope he got this quality from his Sire. :) Oxy has a perfect appearance topped by an excellent movement. He is a strong dominant alfa-male, very clever and quick to lern.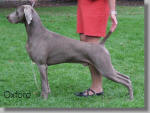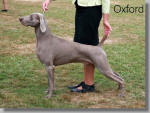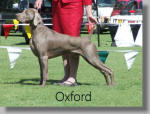 Gambler's Dam is beautiful Dixie (BISS NZ Ch, AusCh Bromhund Xtremely Luscious), female with a balanced body and excellent movement. She has very sweet nature, is great with other dogs and easy going to leave with nature. She s a natural hunter, great retriever and loves the water. She has been a great mum and producer.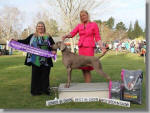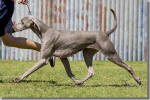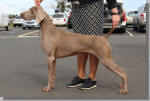 Gambler themself is a male with a balanced, selfconfident nature, an ideal mixture of his Dam and Sire. He gets on well with other dogs, even males, is friendly to people and kids. He is a natural hunter and retriever like his Dam, passionate to the water. He has balanced body building with middle srong to strong bones, well marked male head, firm and straight back, deep chest and excellent angulation.
Gambler
AUS Ch.
Weisup Royal Flash at Bromhund (EX NZ, IMP AUS)
*16.11.2016
Hip score 4 (= HD A1)
hight: 66 cm
complete teeth, scissors bite
Gambler's homepage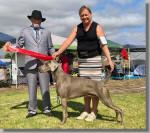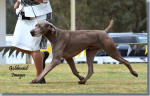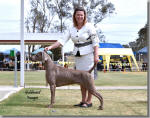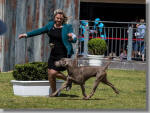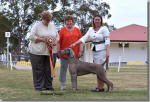 Rory's homepage
Ro

ry (Multi Ch Gem of Aleck from Atria Cordis) is our big star, but most of all big love. She is a cuddly bitch with very friendly nature, gets well on with dogs, people and kids as well. She has been an excellent and reliable buddy for hunting, has an excellent nose and big passion for tracking. Her searching in fields is systematic with a firm lovely pointing and excellent steady. Loves water and this love passes on her progeny. She is very easy to handle which is related to her owner-dependent.
Rory has been recognised as one of the most succesfull and beatiful female of Czech republic and middle Europe. She has been placed very high at plenty of national and international dog shows incl. the European and World dog shows. She has been placed as the most succesfull bitch of FCI VII-group of 2013 czech point score. She is a Double Grand Champion, C.I.E, C.I.B., Champion and Junior Champion of 5 countries and got many other amazing placements. All the details are available at her own page

HERE

.
Rorynka has given a birth to 13 lovely puppies (11 boys and 2 girls), 7 of them lives in other 4 european countries. She has always been an amazing mum. There are already one brood bitch and one stud dog in her progeny, other two boys need just fulfill the last requests to become the official studs. We have few juniorchampions, champions and even one grandchampion among them.
We are more than thrilled by this litter plan as having the two special ancestors in the pedigree (Levi - Colsidex Grauhund Just Jeans like the highlighted star, and Cusack - Bromhund High Fidelity too) is just a dream for us! Can't wait!!

HERE

you can find the future-puppy-pedigree.