NEWS 2019

18.05.2019
CARRIE & TEAM
Our little Carrie is growing so fast! She is 3months old now, little devil who plays / fights with her granny Rory for all the time. She showed out her passion for a game and retrieving, also for restaurants.. :)))
She has already few times met her littermates and they all had a great time. They all 11 have just amazing families and we are looking forward to see them grow, work and enter the shows.

06.05.2019
SUCCESFUL CLUB SHOW
Our homebred boys achieved lovely results at the weekend Special club show in Slavkov Castle - we are so proud of them! Big thanks to the honorable judge Mrs. Hana Ahrens (A).
Fil (Daring Rascal Philip Greynie - Rory x Gambler) - Very good at his very first show at the age of nearly 10 months
Raul (Brave Raoul de Greynie - Rory x Nash) - Excellent 1st out of 8 & CAC in the working class!!!
Bond (A Wild and Free of Greynie - Rory x Dante) Excellent 2nd & res.CAC in the champion class

27.04.2019
RORY DCM CLEAR!!
Our almost veteran Rory (Gem of Aleck from Atria Cordis) has been tested for a cardiomyopathy and is clear!!!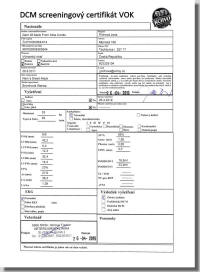 21.04.2019
PRAGUE EXPO DOG 2019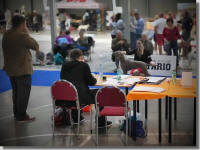 Our little Daisy (Daring Game of Greynie - Rory x Gambler) entered the Junior class for the very first time at the age 9 months and 10 days and she was perfect! In the huge competitions of 5 females in the class achieved Excellent 2nd! Very proud of her!

18.04.2019
NEW ADDITION !!
We are very happy to annonnce that we are keeping the red girl out our E-litter (Arrya x Alli)!! Her name is Everlasting Storm at Greynie and we are going to call her "Carrie" (in honour to her amazing great-grandma and also to another Carrie, the amazing lady out of a TV series as well as our Rory is..). Wish us good luck please. :)
N
07.04.2019
TIME TO SAY GOODBYE IS COMMING
Our Everlasting team has crossed the 7 weeks of it's age and it means we have to get ready for the leaving. They all are booked for the best families ever - all of them except the black Orcan are staying in the Czech republic. Puppies have been microchipped and vaccinated and they were amazing. Today we took the last stack shots and this is the result. We are so happy with this 12 miracles!

06.04.2019
DAISY HAS STARTED HER CAREER
Two recent weekends belonged to our Daisy (Daring Game of Greynie - Rory x Gambler). She took a part in a hunting check of the hunting dogs with the best possible results. And today she entere her just second show in the puppy class and she was amazing: from one of the most strict czech judges Mr. Vaclavik she got Very promissing 1st out of 3 at the National dog show Ostrava! Unfortunatelly there were not any finals for puppies. Big congrats and thanks to the owners!

28.03.2019
RAOUL DCM CLEAR

Another Greynie-weim's heart has been tested and we are more than happy that Brave Raoul de Greynie (Rory x Nash) is DCM-clear as well!

16.03.2019
PUPPIES ARE 1 MONTH OLD
Time flies so quickly... Our lovely 12 pups out of our E-litter are 1 mont old! They are so sweet and good!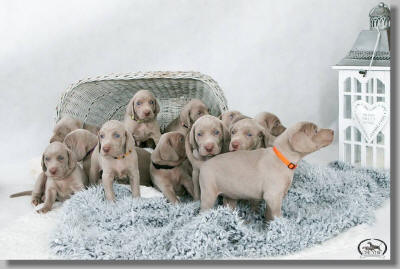 We tried to take the first stack-shots... not bad, what do you think?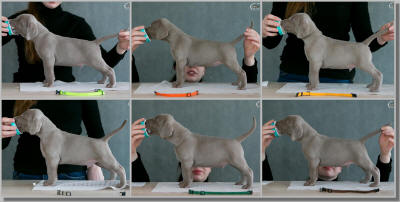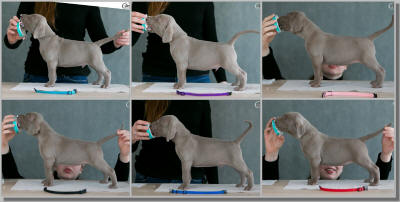 27.02.2019
A-TEAM IS 4!!
Hard to believe, but our beloved puppies out of the A-litter are 4 years old!! Hapy Birthday, dear kids! We love you!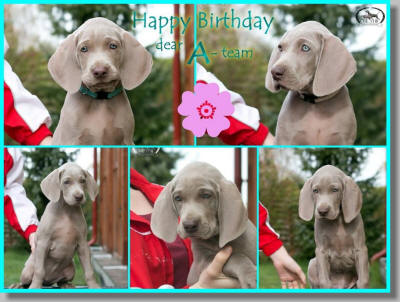 13.02.2019
THE PUPPIES HAVE BORN!!!
We have 9 strong boys and 3 lovely girls!! Their mum cares for them like shw was an experienced brood bitch. Even the labor was amazing - she managed everything on her own and the easiest way I have ever seen (almost all the puppies are 350 - 475 g and they born during just 8 hours)!! Good girl!
It is not surprise that few boys are still available. I case of your interest don't hesitate to contact us (j.pichova@volny.cz, phone Nr. +420 603 328 104).

09.02.2019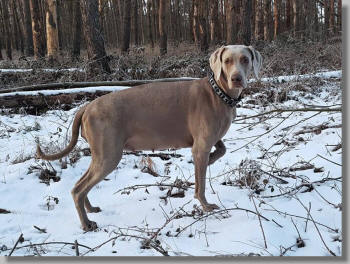 PUPPIES EXPECTED
Puppies are due in few days, so the excitement is raising! The mother to be Arynka is getting huge and big, we are really curious how many are there. Stay tuned!

08.02.2019
B-TEAM 3rd BIRTHDAY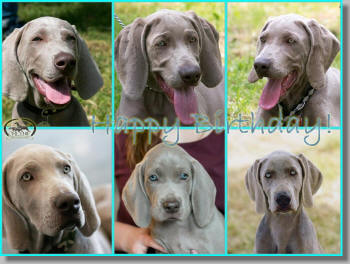 28.01.2019
NEW SEASON - NEW ACHIEVEMENT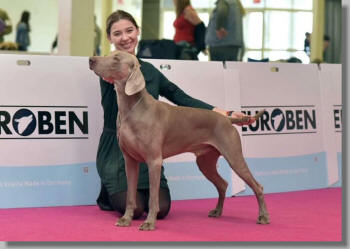 Big pleasure just at the beginning of the year: Our Bond, the nearly 4-year-old boy out of Rory and Dante, took part at the 3-day-international-show in slovakian Nitra. In his champion class and in all the breed he had to compeete against a great international competition (CZ, PL, AUS, NL, HU). And he achieved Ex.1st/3, CAC, res.CACIB on Friday!! That meant he became a Champion of Slovakia!!!
The other days the competitors changed variously the placement, so the rest achievements were Ex.2nd/3, res.CAC and Ex.3rd. Well done guys!

03.01.2019
SEQUELS OF 2018
Our Raoul (Rory x Nash) became a weimaraner Winner of the Open Slovakia Dog Cup 2018!!! The most succesful weim at the slovakian dog shows! Well done my boy! Well done the handlers and owners!
And our amazing Arrya (Rory x Dante) was placed 3rd in the Club working Cup 2018! The best female! I am soo proud of both the homebred darlings!