NEWS 2018
Exciting litter plans for 2018!!!
For details click HERE

16.04.2018
ARRYA'S HIPS
Another Greynie-puppy has been X-rayed for the hips dysplasia and another great result: A Wild Blossom Arrya Greynie aka Arrya - HD A!!!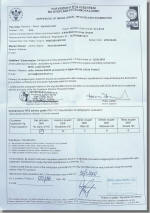 06.04.2018
ANNIE IS 11!
Hard to believe but our Annie is celebrating her 11! She has been still healthy and powerfull, she is just 11 year young teenager. We are wishing her just good health, nothing else. She is jsut our love...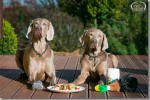 20.03.2018
RAUL BECAME A UKRAINIAN BEAUTY CHAMPION
From the 3 dog show (2x CACIB +1x CAC) trip to Ukraina Raul (Ch.Brave Raoul de Greynie - Rory x Nash) took 3x CAC & 2x res.CACIB and this way became a Beauty Champion of Ukraina! Well done!

15.03.2018
BOND'S HIPS
At the age of 3 years Bond's (A Wild And Free of Greynie - Rory x Dante) hips and elbows were X-rayed and the offcial results made us very happy and proud.

27.02.2018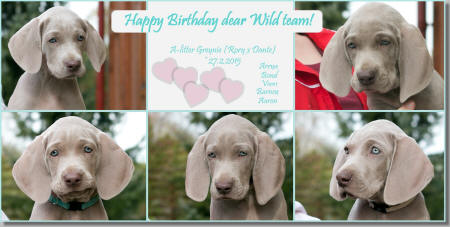 25.02.2018
GREYNIE BIRTHDAY CELEBRATION
The A- & B-litter 4 puppies visited us to celebrate thier Birthday by a long common walk, enjoying special dog cake and plenty of toys and other presents and playing together. Thanks to the best owners ever for their care and love!

17.02.2018
SLOVAKIAN CHAMPION OF CHAMPIONS
Another amazing achievement of our Raoul (Brave Raoul de Greynie - Rory x Nash)! At the slovakian Victory show (Champion of Champions) got lovely result Ex. 1, CAC & Victory Junior Winner! Well done smart boy! WTG!

11.02.2018
NITRADOG CUP + WINTER SHOW Nitra
Raul (JCh Brave Raoul de Greynie - Rory x Nash) became a CHAMPION OF SLOVAKIA being graded Ex. 1/2, CAC, res.CACIB at the Nitradog Cup in Slovakia on Saturday! On Sunday was Ex. 2nd, res.CAC. Lovely present to his second Birthday which he celebrated on Thursday! And lovely results which are the reason why to be proud of this amazing boy!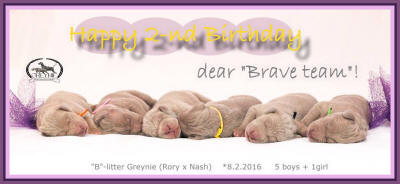 04.02.2018
DUOCACIB BRNO
The biggest czech two-day-international-show ment this year 53 weims out of 5 countries every day. The only one Greynie-boy was entered this time - Brave Raoul de Greynie (Rory x Nash). He achieved Ex.2 & res.CAC and perfect critiques for both days. Well done and big thanks to the best handler ever Paja!

12.01.2018
GRANDCHAMPION BOND
Bond (A Wild and Free of Greynie - Rory x Dante) became a Grandchampion of Czech republic at the Hanacka dog show Brno. In the competition of 37 weims achieved Ex. 1/2 in the champion class, CAC and National Winner! Well done!