NEWS 2018
EXCITING BREEDING PLANS FOR 2018 - WE HAVE PUPPIES!!!
For details click HERE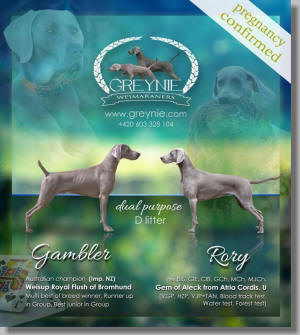 29.07.2018
AMAZING WORKING ACHIEVEMENT OF BOND!!!
Bond's owner Kuba registered him at the Havlickuv Brod Cup - two-day-hunting-exam (water work & forest exam - bloodtrack, fox etc.) which was sort of presumption as mainly the most experienced and succesful trainer and handler use to enter this special test. But both boys went great and showed just fantasitc level of Bond's skills and work. On Saturday they were absolutely perfect at the Water exam and got I-st prize, 100/100 points and later on Sunday also a brand "Best water"!!! On Sunday at the Forest exam they gained I-st prize, 232/240 points. The final score of the Cup was I-st prize, 332/340 points, 4-th place out 16 competitors and Best water!!! Absolutely amazing result for such an inexperienced both dog and handler!! I am so proud of them!!
And the icing on the cake is the fact, that this way Bond became offciallly a stud dog!! More of him you can find HERE.

28.07.2018
RAOUL IN POLAND
For this time Raoul visited a new country - Poland - and openned his third championship. He achieved Ex.1st, CWC in the working class. Well done guy!

09.07.2018
WE HAVE PUPPIES!!!
The biggest and joyfull news today: We have puppies! Not just "puppies as usually", but we have girls!!! Our Rory gave birth to 5 lovely princesses and 1 knight! So she has corrected her statistic which had been just 2 girls in 13 puppies. We are wery happy that babies and their mum are healthy and lively. We hope they will bring joy and happiness into their new owner's lifes. All the puppies are booked.

08.07.2018
CACIB Velka Ida
Raul is going on in his campagne with the new 2x Ex. 1+ CAC, res.CACIB at the two-day-international-show Velka Ida in West Slovakia. Another step towards the Grandchampion of Slovakia done..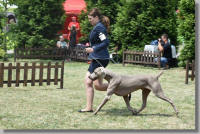 29.06.2018
COUNTDOWN OF RORKA
Rory's pregnancy is going to the last dozen. She is getting huge and we can see the movement of the babies - such a sweet watching. Can't wait to see them live. <3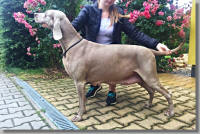 23.06.2018
RAUL IS A CZECH BEAUTY CHAMPION!!
Raoul (Rory x Nash) became a Czech champion of beauty at the Intecanis Brno (30 SH-weims entered) show after getting a great result Excellent 1/2, CAC, res.CACIB. Well done guys!

10.06.2018
RAUL ROCKS!
Fantastic news from slovakian Nitra this weekend! In the huge competition of 18 beautiful weims out of 5 countries incl. Russia and Hungary our boy Brave Raoul de Greynie (Rory x Nash) achieved Ex. 2, res. CAC, res.CACIB on Saturday at Grand Prix 2018! And amazing Ex.1/2, CAC, CACIB, BOB and res.BEST IN GROUP on Sunday at Derby Winner Show under Mrs. Monika Blaha (AT) and Mrs. Magdalena Swietoń (PL)!! This ways has openned his slovakian Grandchampion title! Well done dear boy!

04.06.2018
PREGNANCY CONFIRMED!
...when the dreams come true... I had no idea even at the beginning of 2018 that something like this could happen, but... Thanks to the two amazing ladies (Suzanne and Ivana) we could bring to the Czech republic this amazing young stud and I got the privilege to use him as the very first czech breeder. And now we are more than happy that Rory's pregnancy has been confirmed! Please keep your fingers crossed till the born and for some girls.. :)
All the details are available HERE.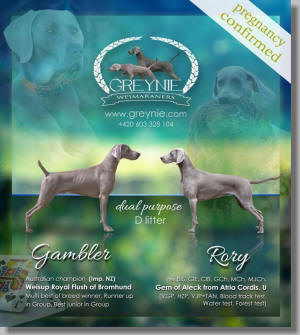 12.05.2018
I-st MERIT FOR BOND!
We are very happy to announce the big succes of our Bond, who passed the Autumn exam in Trebic region with just amazing result - I-st prize, 292 points and 3-rd place. The lovely comments of the judges and viewers were just the icing on a cake.. Well done guys! Now just the forest exam is missing to be recognised as an official stud dog... Fingers crossed!

05.05.2018
CACIB PRAGUE
It would not be possible to not join our "home" show and it was so also this time. Paja was handling few her clients but still wanted to enter our veteran Annie, who was 11 years just a month ago. And our forever young star did her best - Excellent 1/2, Best of Veterans!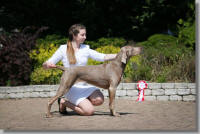 30.04.2018
BOND FOR THE VERY FIRST TIME ABROAD
Bondík (A Wild And Free of Greynie) and hiw owner decided to try few foreign championships and they started in hungarian Papa. Paja, the usual Bond's handler was not there so the handling was the owner Kuba's deal. And he did well - Bond fullfilled the goal of the trip and achieved 2x Ex.1 and 2x CAC. It means he has openned his hungarian championship. Now they have to wait for 1 year and 1 day to finish the title. Good luck guys and congrats!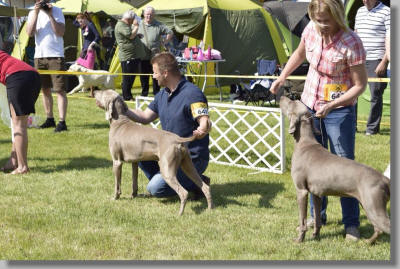 22.04.2018
COOL BOYS ARE 1 YEAR YOUNG!
And another jubileum is here - our C-litter-first-birthday! Our two boys from the combination Rory x Ez are not puppies any more! We wish them good health and all the best to the future lifes! We love you!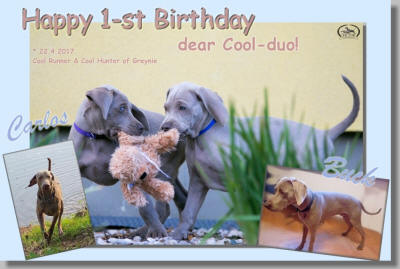 16.04.2018
ARRYA'S HIPS
Another Greynie-puppy has been X-rayed for the hips dysplasia and another great result: A Wild Blossom Arrya Greynie aka Arrya - HD A!!!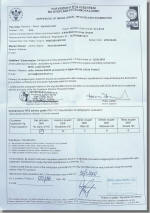 06.04.2018
ANNIE IS 11!
Hard to believe but our Annie is celebrating her 11! She has been still healthy and powerfull, she is just 11 year young teenager. We are wishing her just good health, nothing else. She is jsut our love...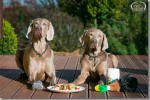 20.03.2018
RAUL BECAME A UKRAINIAN BEAUTY CHAMPION
From the 3 dog show (2x CACIB +1x CAC) trip to Ukraina Raul (Ch.Brave Raoul de Greynie - Rory x Nash) took 3x CAC & 2x res.CACIB and this way became a Beauty Champion of Ukraina! Well done!

15.03.2018
BOND'S HIPS
At the age of 3 years Bond's (A Wild And Free of Greynie - Rory x Dante) hips and elbows were X-rayed and the offcial results made us very happy and proud.

27.02.2018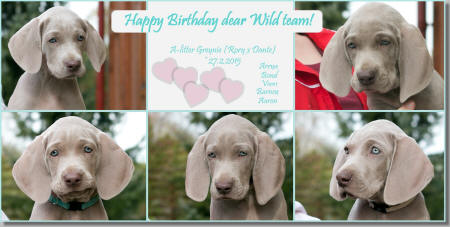 25.02.2018
GREYNIE BIRTHDAY CELEBRATION
The A- & B-litter 4 puppies visited us to celebrate thier Birthday by a long common walk, enjoying special dog cake and plenty of toys and other presents and playing together. Thanks to the best owners ever for their care and love!

17.02.2018
SLOVAKIAN CHAMPION OF CHAMPIONS
Another amazing achievement of our Raoul (Brave Raoul de Greynie - Rory x Nash)! At the slovakian Victory show (Champion of Champions) got lovely result Ex. 1, CAC & Victory Junior Winner! Well done smart boy! WTG!

11.02.2018
NITRADOG CUP + WINTER SHOW Nitra
Raul (JCh Brave Raoul de Greynie - Rory x Nash) became a CHAMPION OF SLOVAKIA being graded Ex. 1/2, CAC, res.CACIB at the Nitradog Cup in Slovakia on Saturday! On Sunday was Ex. 2nd, res.CAC. Lovely present to his second Birthday which he celebrated on Thursday! And lovely results which are the reason why to be proud of this amazing boy!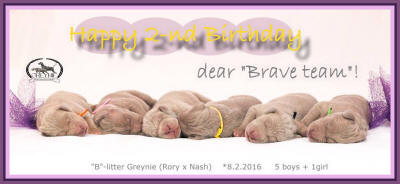 04.02.2018
DUOCACIB BRNO
The biggest czech two-day-international-show ment this year 53 weims out of 5 countries every day. The only one Greynie-boy was entered this time - Brave Raoul de Greynie (Rory x Nash). He achieved Ex.2 & res.CAC and perfect critiques for both days. Well done and big thanks to the best handler ever Paja!

12.01.2018
GRANDCHAMPION BOND
Bond (A Wild and Free of Greynie - Rory x Dante) became a Grandchampion of Czech republic at the Hanacka dog show Brno. In the competition of 37 weims achieved Ex. 1/2 in the champion class, CAC and National Winner! Well done!