NEWS 2021

20.9.2021
ROBERT JAKOUBEK MEMORIAL 2021
And the next milestone for Greynie came just a week later! I have never dreamed of any my homebred weimaraner who could take a part at this biggest and the most demanding weimaraner trial in (not just central) Europe! But it happened! Even two Greynies fullfilled the nomination criterions for this year (and the third - my Carrie - finished as the first bacup weim)!!
It used to be always a huge achievement to pass this trial succesfully, regardless the merit or points. And both my boys did it!!
Bond - I-st merit, 460/492 points, 8th place out of 24 participants!!! Incredible!!!
And even bigger surprise is our "little" star Orcan - II-nd merit, 444/492 points, 11th place for this 2,5-year-old-boy!! it is a dream result! Just 14 out of 24 participants finished the trial succesfully, just 9 with the I-st merit!! Huge congrats to both the families!

15.09.2021
BRAND NEW WORK CHAMPION ORCAN!!!
We have been still over the moon, it's been a huge milestone for our kennel! A very first Work Champion out of Greynie!!
The duo of Orcan and Natalia is just incredible team and we are more than proud of them! Their achievements during last trhee weekends speak for themself! Slovakian weimaraner breeders club Cup, two-day-trial field + water - Winner of both the trials, I-st merit, 349/356 points, Club Winner, CACT!!!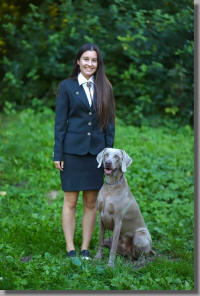 Next weekend an International trial field + water (CACIT & CACT) and they did perfect again! I-st merit, 248 points, 3rd place and - the ising on the cake - another, and in general third CACT!!!! This way Orcan became a slovakian Work Champion!!! What an achievement for this 2-year-old boy and his very very young owner! Can't believe it!
And the next weekend there was the prestigious and one of the most demanding trials held - the J.Kadlec Memorial. Orcan already had been quite tired after all the weeks of work and trials, so the result was not as nice as we got used to see. But the III-rd merit and 426/500 points is still an excellent result! We are very proud of Orcan and Natalia that they passed this trial succesfully!

25.08.2021
DUODANUBE BRATISLAVA
Zara (Everlasting Hope for Greynie) - 3x Ex. 1st, CAC + 1x CACIB (a brand new Champion of Slovakia!!)!! Orcan 2nd & res.CAC on Friday and Ex. 1st out of 2, CAC, CACIB & BOS on Sunday!! This way openned his Grandchampion title! Well done brother and sister!!

18.08.2021
ALL-ROUND TRIAL FOR CARRIE AND HER BRO ORCAN
Oour Carrie became an universal hunting dog after passing an All-round trial at Frantiskovy Lazne. The result was not the best possible due to a field-searching which she did not manage to show the level we are used to. But the rest of the events was almost perfect - I am really proud of my girl! III-rd prize, 434/492 points!
Much more better result ment a Stefan-Krasnansky-Memorial in Slovakia for Carrie's brother Orcan!! He did amazing and reached just dream achievement I-st prize, 479/492 points, CACT + Best forest!!! We are absolutely over the Moon with the working potential of this litter!

08.08.2021
ZARA PASSED FOREST EXAM!!
with II-nd prize and 224/240 pts. (limit mark 2)! Well done girls!!!

02.08.2021
MARIAN KORIC CUP FOR ORCAN
And Carrie's brother Orcan showed his hunting passion just a week after her. He took a part at the prestigious slovakian 2-day-competition forest + water Marian Koric Cup. And he did absolutely great in that huge competition of 24 pointers! His result I-st merit, 368/376 points & 2-nd place is amazing! We are incredibly proud of him and his owner Natalia!!

25.07.2021
WATER TRIAL FOR CARRIE
This summer is going to be a working one. We passed a water trial with my Carrie and the result was not bad - I-st prize, 95/100 points. Love this girl and her passion for water!

18.07.2021
WATER TRIAL FOR ZARA
Another very nice workiing result for the E-litter-mate Zara: I-st prize, 92/100 pts!!! Huge well done Zara & Romana! We are proud of you!

06.07.2021
FOREST EXAM FOR ORCAN
A week after Carrie also her brother Orcan passed a Forest trial and he managed it with a similar result like her - I-st merit, 253/264 points! We are more than proud of him and his owner/handler Natalka, who is a complete novice in a hunting cynology!!

26.06.2021
FOREST EXAM FOR CARRIE
Carrie (Everlasting Storm at Greynie) the same day passed a Forest trial (blood track, fox etc.) in I-st prize, 232/240 points, nose 4!!!

26.06.2021
INCREDIBLE SHOW SATURDAY FOR GREYNIE
E-litter
Orcan (Everlasting Orcan of Greynie) - SK Weim Club Show - working class - Ex.1st/3, CAC, Club winner, BOB, BEST IN SHOW!!!
Zara (Everlasting Hope for Greynie) - Intercanis Brno, CZ - open class - Ex.2nd, res.CAC
Our stud dog's progeny
Sire: Bond (A Wild and Free of Greynie):
Harmony Hanah z Lulecskych lesu - Intercanis Brno, CZ - Ex. 1st, CAC in working class
Holly Heaven z Lulecskych lesu - Intercanis Brno, CZ - Ex.1st, CAC in intermediate
Agis Seda radost - CACIB Chemnitz, DE - Ex. 1st, JCAC VDH
Akira Seda radost - CACIB Chemnitz, DE - Ex.2nd, res.JCAC VDH S
Sire: Raoul (Brave Raoul de Greynie):
C's Iron Pepper Grey Marvel - Intercanis Brno, CZ - Ex. 1st, CAJC, JBOB
Huge congrats to all involved! We are so proud of you everyone!

20.05.2021
ZARA PASSED HER VERY FIRST HUNTING TEST
Zara (Everlasting Hope for Greynie - Arrya x Alli) with her owner Romana made us proud passing her very first hunting trial on Saturday. It was Autumn test (HZP) and the result was very nice - Ist prize with 275/300 points (nose and pointing 4/4). Well done girls!

04.05.2021
PREGNANCY CONFIRMED
Pregnancy of our F-litter has been confirmed. The puppies are due the turn of May and June. All the details about the litter are available HERE, but it is fully booked.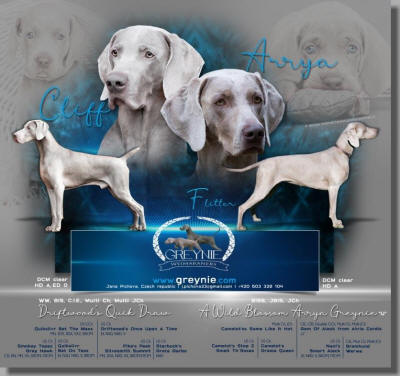 22.04.2021
C-LITTER BIRTHDAY
Happy Birthday to our two boys from the C-litter!!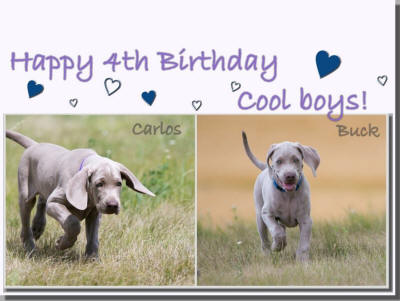 05.04.2021
BOND'S NEW ADVERT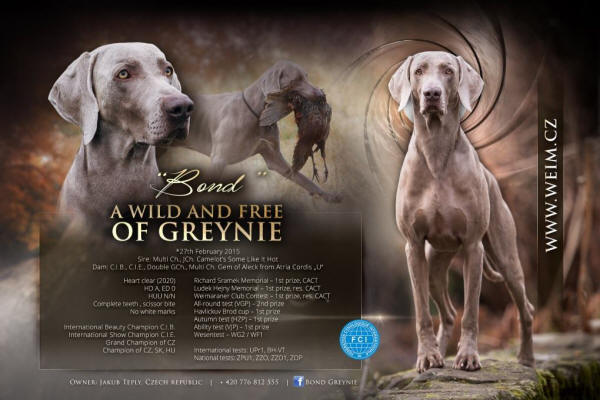 27.02.2021
GREYNIE BIRTHDAY
Happy Birthday to our A, B and E-litter which were born in February (2015, 2016 and 2019)!!!!