NEWS 2020

27.09.2020
CACT FOR BOND!!
All this weekend we kept our fingers crossed for our Bond who was competing at the Richard Sramek Memorial (field + water trial). The reason was simple - there were such miserable weather conditions that half of the competitors did not complete the trial (heavy rain and 6°C all the Saturday, a little bit better on Sunday).
But Bond with his owner Kuba were amazing! They passed the Saturday Fieldtrial with I-st prize, 288/300 points, nose 4/4 and placed 3rd!! Sunday's Water trial was Bond's favorite event so it was not such a big surprise, that he won it with full set of points!!! This results meant in general, that he was placed viceWinner of the Memorial and the top of the cake - obtained a CACT-title!!!! What a fantastic achievement for this boy who was sold as a pet to this owner who had not wanted to hear anything about hunting or hunting training... :)) We are so proud of them both and all their amazing way to this title! Moreover Bond is a very helpfull buddy for Kuba's new hobby - hunting!! But still what is the most important for us - Kuba loves Bond and cares for him like nobody else would!
And we are also happy that Bond became already second Greynie-bred weimaraner who gained the CACT-title - the first one his sister Arrya was! Proud of them both and on the cloud nine!!!

20.09.2020
NITRADOG 2020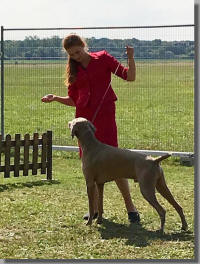 Our slovakian boy Orcan took a part at 3 of the 4 days of this international show and he did great: 3x Excellent 1st & CAC and 2x res.CACIB!! Well done!

13.09.2020
CLUB CONTEST FIELD + WATER (CACT)
Our weimaraner club organised this two day competition in our favorite region near by Tesany in Moravia. We took a part with our 1,5 year old Carrie despite the fact we still need more training and practising mainly in retrieving. But Carrie did her best, had a good trial luck and the judges were very nice, so the result was fantastic for us!! It means the Fieldtrial with I-st prize, 284/300 points, nose 4/4, 6th place out of 17!!!, the Water trial with I-st prize, 94/100 points, 8th place out of 13!!! In general it brought 5th place in the Club contest!! We are nearly proud of our little devil...
Also our Bond took a part in this competition and he showed himself perfectly!! Without the one little mistake on water he would became a Winner. But still this his achievement is fantastic - 2nd place in general & res.CACT!!!! On Saturday finished the Fieldtrial with I-st prize, 293/300 points and 2nd place, the Water trial on Sunday with I-st prize, 98/100 points and 4th place!! We are so so proud of this team!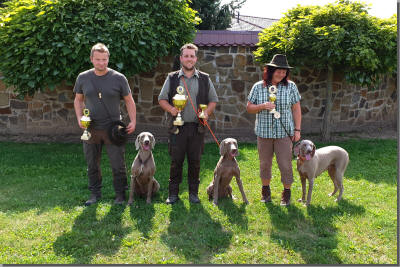 05.09.2020
CLUB SPECIALTY BARTOŠOVICE
This year's Club show took place on the other end of the Czech republic, so just two Greynies joined it. Young Lucky (Everlasting Dream of Greynie - Arrya x Alli) with her owner Martina was awarded Excellent and got just perfect critique. Experienced Bond (A Wild and Free of Greynie - Rory x Dante) had a large and quality competition in the Winners class but still achieved just great result: Excellent 2nd, res.CAC!!! Big congrats to both the owners! We are proud of you!
We are also happy that Lucky with Martina started their hunting carrier and they do very well!

28.08.2020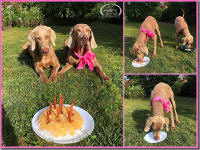 RORY IS 9!!
It is unbelievable sometimes, the time flies... Rory, our little princess, but now already a Dam, Granny and Greatgranny is celebrating her 9th Birthday. She has been still full of energy, from time to time with some petty senior problems but in general in just great condition. We hope it stays so for next 9!! Love you Rory!

10.08.2020
ARTER LONG TIME...
After all the unpleasant changes and disappointments we are back again and bringing you some news about us in 2020.

10.08.2020
ORCAN ROCKING AGAIN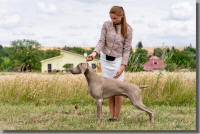 In July was our Orcan succesfull again and it was at the Nitra CACIB show. For all three days achieved Excellent 1st + CAC, 2x added also res.CACIB. Well done boy!

10.08.2020
D-LITTER B-DAY

10.08.2020
CARRIE'S VERY FIRST TRIAL + ORCAN'S SUCCES IN HUNGARY
We with Carrie took a part at the Ability exam in the second half of June. She worked very well throughout the rainy and windy day and finished with I-st prize and full set of points (apart from the the fur-game-calmness as we did not meat any). She placed 5th out of 19 competitors and made me happy!
The same weekend our homebred Orcan (Arrya x Alli) entered the two day international show in Papa, Hungary and went great! He achieved 2x Excellent 1st, on Saturday added also CAJC and JBOB beeing in the Junior class, on Sunday then CAC, CACIB & BOB!!! as he competed in the Intermediate!!! Big congrats!

10.08.2020
RAUL's RENEWED DCM-CERTIFICATE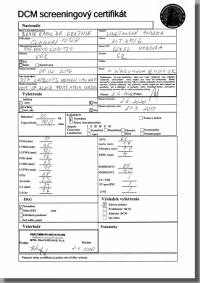 10.08.2020
LUCKY DEVÍTILETÝ
Hard to believe it but our australian kangaroo Lucky (Bromhund Sensation at Greynie) is already 9!! Happy Birthday lovely boy! Stay such a nice, strong and healthy dog!

10.08.2020
RAUL's VERY FIRST PROGENY
In April the very first progeny of our Raoul have born in the Grey Marvel kennel. They were 5 strong boys and 2 lovely girls and we are more than happy that one of them stayed at home for a possible future breeding.

10.08.2020
FEBRUARY BIRTHDAYS
Even three our litters have born in February, so we had a lot of celebrations. Happy Birthday our lovely puppies, have a good health, we love you!

21.02.2020
LUCKY RENEWED HIS DCM-CERTIFICATE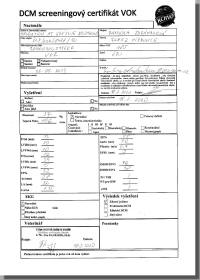 Our veteran Lucky has absolutely healthy heart also at the age of nearly 9 years!! The greatest news ever!

15.02.2020
GREYNIE B-DAY CELEBRATION 2020

02.02.2020
DUOCACIB BRNO
This biggest czech dog show was very succesfull for us, mainly on Sunday:
- Brave Raoul de Greynie "Raul" (Nash x Rory) - Ex. 1st /4, CAC, res. CACIB +Ex. 2nd,res. CAC - openned the GCH of CZ title!!!
- Everlasting Hope for Greynie "Zara" (Alli x Arrya) -Ex.1st, CAJC, BOJ + Ex.2 - openned the Junior CH title of CZ!!!
- Everlasting Wind of Greynie "Coffee" (Alli x Arrya) - Ex. 1st /3, CAJC + VG 4th /5 - openned the Junior CH title of CZ!!!
- Everlasting Orcan of Greynie "Orkán" (Alli x Arrya) - Ex. 2nd /3 + Ex. 3rd /5
- Daring Rascla Philip Greynie "Fill" (Gambler x Rory) - VG 2nd


29.01.2020
ORKAN BECAME JUNIOR CHAMPION OF SLOVAKIA
At the same show also our youngest one Everlastin Orcan of Greynie achieved 3times Ex.1st/2 + CAJC and finished his junior title!! Well done!

27.01.2020
LUCKY BECAME A VETERAN CHAMPION OF SLOVAKIA
Bromhund Sensation at Greynie achieved 3 times Ex.1st & Best of Veteran at the 3x CACIB Nitra, SK and this way became Veteran Champion of Slovakia!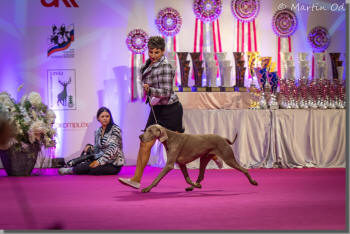 04.01.2020
NEW YEAR DAY WALK